Method Led Design - UB 213 Gainsborough
This new railway underline bridge was designed for the existing metal spans to be used for delivery of the new girders and then for the new steelwork, in turn, to be used to dismantle and remove the existing life - expired metalwork. The four replacement spans, including twin-50m main spans, were installed using this unique methodology which was integrated into the permanent works design to avoid the cost and risk associated with the more obvious alternative of using floating cranes.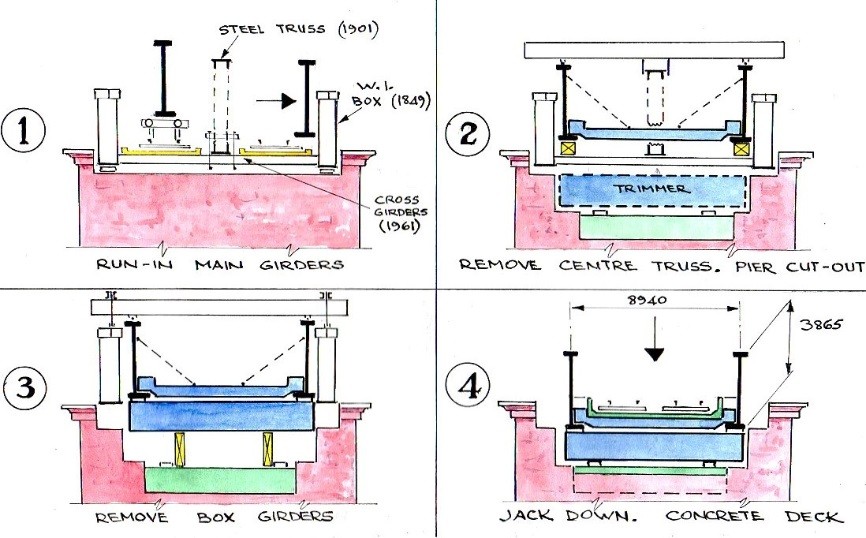 As illustrated above the sequence was:
Slide 1
New 4m deep main plate girders were brought out over the river on bogies running on the existing rails and then moved outwards.
Slide 2
Riding on crane rails on the new girders purpose–made gantries were used to move segments of the old centre trusses to the end of the bridge for removal. Cut outs were made in bridge piers for installation of new steel trimmer girders which were transported by barge. Gantries were used to install cross girders
Slide 3
Gantries used in cantilever mode to move segments of old edge box girders to the ends of the bridge for removal.
Slide 4
Bridge steelwork was jacked down to level, deck cast and bearings installed
Reuse of the existing bridge piers and foundations was made possible by the pier cut outs compensating for the additional weight of ballast and allowing modern horizontal force effects to be applied at a lower level.